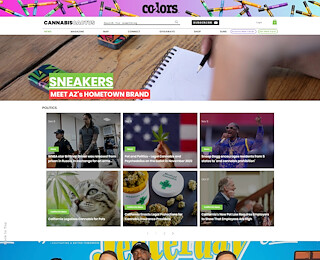 With the current increase in the legalization of marijuana for both medical and recreational uses, there has been remarkable growth in the revenue made by sellers. However, there are still strict restrictions on marketing cannabis products. 
Different states have different laws concerning marijuana advertising on both print and digital platforms. This has greatly affected publicity and sales and has made dealers find other creative and effective methods of marketing cannabis products in AZ. There are a lot of prospective buyers, dealers only need to work on finding resourceful ways to connect with their target audience. 
Five Tips To Market Cannabis Products in 2022
To increase publicity and promote sales, these are five tips to help you advertise your dispensary;
Website and Online Store
Cannabis sellers must firstly have legal permission before they can start selling online. There are a large number of online searches for cannabis products online. 
Cannabis sellers can build a business website and maximize the e-commerce platforms. Arizona cannabis dispensary laws for advertising must be taken into consideration when selling and advertising online. Licensed dealers can display their products online and this is a great way of marketing cannabis products in AZ.
Targeting The  Local Market
Cannabis dealers can maximize their local markets for promotion and sales. Local markets can give their business rapid visibility and require only little costs. The use of online marketing is a proven efficient strategy of marketing. It is however necessary for them to leverage their local markets in marijuana legalized states. 
They can get their brand listed on Google, hire the services of an affordable advertising agency in their locality. This is an inexpensive and efficient way of marketing cannabis products in AZ.
Digital Marketing and SEO
Most social media platforms do not allow advertising of cannabis products. There are still digital techniques that can be used which conform with the cannabis advertising regulations.
Search Engine Optimization(SEO) is an effective method of creating organic content by focusing on keywords that will improve traffic on their digital stores and increase sales.
These are some of the ways to use digital marketing to advertise marijuana business;
Post informative and educational content about your products.
Publicize the medical and recreational benefits of cannabis products.
Engage your audience and customers.
Use videos to tell your business story and so on.
Invest In Billboards
Billboards are considered a traditional method of advertising and with the invention of new advertising strategies, their use has greatly reduced. Billboards are however an influential way of marketing cannabis products in AZ. Laws govern the use of billboards and if properly adhered to is a major advertising platform for cannabis products. They are an effective way of being constantly in front of the target audience.
Plan Promotional Events
You can set up an event such as a seminar, barbecue, conference and so on. This will promote great relationships and connections with customers and partners and is a great opportunity for businesses to build their network.
Marketing cannabis products has become easier with the use of innovative strategies which has produced incredible results.
Find Community Here: 
https://cannabiscactus.com/community/
Magazine: https://cannabiscactus.store/magazine: https://cannabiscactus.com/magazine/
Store: https://cannabiscactus.store/
Cannabis Cactus Magazine
623-295-1011
2921 West Osborn Road
Phoenix
AZ
85017
US